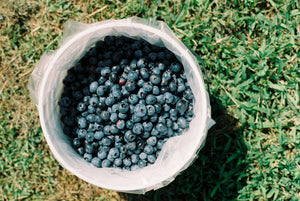 Blueberry Picking Tradition | Stutzman Farms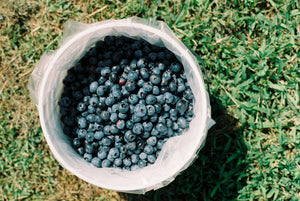 Blueberry Picking Tradition
I grew up knowing EXACTLY when berries ripened because soon as they did, I spent every minute I could in my Grandma Keslar's backyard. She had blueberry bushes that I swear were TREES and no berry has ever tasted as good as hers. 
She's 97 and although she still gets around like someone born decades later, we did have to make the hard decision to sell her house a few years ago. And since then, I have supplemented the annual tradition by visiting local berry farms. I drag anyone willing to go with me and I pick as many berries as I can manage. 
My friend Amanda introduced me to this AMAZING farm near Indiana, Pennsylvania. It's family owned and happens to sit on a hill overlooking a beautiful view while you fill your buckets with every juicy berry you lay your eyes on. There's no shortage of berries here - as long as they are ripe they are plentiful and delicious.
PRO-TIPS:
1. Go early - July is hot and you will be out in the sun. It is a farm after all. :)
2. When you go, take cash with you. You don't need it for the berries (they take card!) but you will for the icecream hut down the road. It's a perfect way to cool off after a summers morning of berry picking. 
3. If you're up for a day-trip, pack a cooler of ice for your berries and bring a picnic lunch with you. Go around the bend to Yellow Creek State Park and enjoy the beautiful lake & parks. 
Enjoy! -- and please, if you go, be sure to let me know what you think! It helps me know the kinds of content you want me to keep sharing. :)
Stutzman Farms is a pick-your-own and ready-picked blueberry farm located on Highway 422 East near Indiana, Pennsylvania. At our farm, we understand the value of health and family, so we found a way to combine the two in the form of sweet, sweet blueberries. For three generations, our family has nurtured our 8-acre farm into a beautiful and welcoming pick-your-own berry patch.
On our green hillside, our berries are watered by rain and ripened by Pennsylvania sunshine. Whether you pick your own or buy them ready-picked, we guarantee your muffins, cobblers and pies will be filled with the freshest blueberries around.
8690 Highway 422 East
Penn Run, PA 15765
Monday - Saturday: 8 a.m. - 6 p.m.
Tuesday: 8 a.m. - 8 p.m.
Closed Sunday
Sorry, we do not allow pets in the field.
A Few Photos from our Early July 2020 trip: