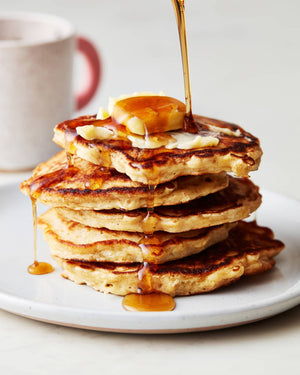 Simple & Healthy Banana Pancakes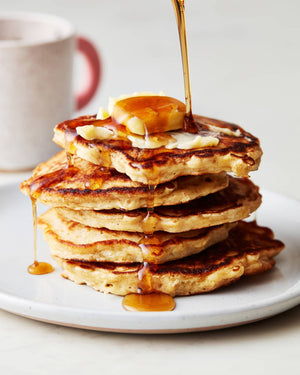 Simple & Healthy Banana Pancakes Recipe
Best thing you can do when stuck inside?
Get in the kitchen and make some incredible banana pancake goodness.
I don't know about you guys but this social distancing has me pulling out all the stops when it comes to being in the kitchen! At the beginning of all of this craziness, I was in the kitchen making Donovan breakfasts early in the morning before sending him off to work. I came across this AMAZING gluten free pancake recipe and guys, this is game changing.
It's made with rolled oats instead of flour so it's high fiber and packed full of healthy nutrients. NO PROCESSED JUNK HERE. And if you're gluten free like me then you will be happy to know these are safe for you!
The best part is that they're so simple to throw together. Come on now, delicious, healthy and easy? Is there anything better than that?
Enjoy friends! Post and tag us if you make them yourself!
Ingredients
2 cups of

rolled oats

 

(certified gluten free if necessary)

1 small ripe banana

1 egg

1 cup almond milk

1 tbsp

maple syrup

1 tsp

vanilla

1 tsp baking powder

1/2 tsp baking soda

1/4 tsp salt

1 tsp cinnamon
 Instructions
Grab your high speed blender, grind together oaks until you get a flour like consistency, making your own oat flour!

 Add in the remainder of ingredients and blend until well combined but be sure not to over-blend and stopping to scrape down the sides as needed.
 Let batter rest for about 5 minutes to thicken up, you want it to be pretty thick! 

Pour 1/3 cup batter onto medium-low skillet that has been greased with butter or non-stick spray. 

Flip over once bubbles have formed and bottom is golden brown.

Repeat until all pancakes are made.

Top with your favorite fruit, natural maple syrup, honey or jam! Add a side of your fav breakfast meat and enjoy!