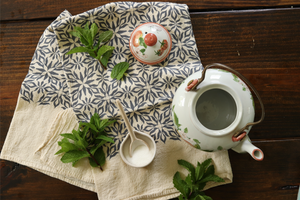 Why You Need To Grow Mint!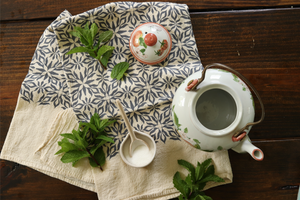 One of my favorite herbs to grow in our garden is spearmint. I know, I know -- what do you possibly use enough mint for to justify growing it!? I get asked this all the time so I figured it would be a great time to encourage you with all the reasons I love it.
Mint is one of the easiest, hardiest, and quickest growing herbs I've ever planted. It spreads and spreads and always is one of the first plants to sprout every year. It's a perennial herb and will take over if you don't plant it in containers. Personally, I don't mind it taking over - so I just let it do it's thing. It smells AMAZING every time I pass it and you can cut it back as much as you want and it stays thriving. 
I love sharing it with friends and family (because there's always plenty), using it in tea, drinks (hello, mojitos!), food recipes, beauty care DIY and sometimes -- even hanging a small bundle of it in the shower for some refreshing aromatic therapy in the summer! It's cooling and detoxifying properties are an amazing gift to bless yourself with this summer - so if you're on the fence about trying it, there's not much to lose!
But if you need just a little more selling on it -- here are 11 scientific benefits of spearmint and what it can do for you (other than tasting delicious!) along with some of my favorite recipes you should try with your first harvest!
Amazing medicine for digestive upset
High in antioxidants
Aids in hormone imbalance
Helps improve memory
Fights bacterial infections
Lowers blood sugar
Reduces stress
Improves arthritis pain
Lowers blood pressure
Clears acne
So easy to incorporate into your diet
Quick & Easy Recipes with Spearmint
Summer Mint Tea
Boil two cups of water.

Remove from heat and add a handful of torn spearmint leaves to the water.

Cover and steep for five minutes.

Strain and drink.
Mint Lemonade (by A Sweet Pea Chef)
For the simple honey syrup:
1/2 cup raw honey

2 cups water
For the lemonade:
6 cups water

2 cups freshly squeezed lemon juice about 6-8 lemons

1/2 cup fresh whole mint leaves
Summer Fruit Salad with a Lemon Honey Mint Dressing (from All Recipes)
4 cups cubed seeded watermelon

2 cups sliced fresh strawberries

2 large fresh peaches, cut into cubes

2 large nectarines, cut into cubes

1 red Anjou pear, cut into cubes

1 cup seedless grapes, halved
2 lemons, juiced
1/4 cup minced fresh mint (chocolate mint preferred)
1/2 lemon, zested
1 tablespoon honey (local honey preferred)
Instructions
Make a simple honey syrup by combining raw honey and 2 cups water in a saucepan over medium-high heat until honey is dissolved and then let cool.

Pour lemon juice and remaining 4 cups water in a large pitcher. Add 1 cup of the simple honey syrup and taste. Gradually add more simple syrup to reach desired sweetness. Stir in mint leaves and refrigerate for 1 hour. Serve over ice.

If you don't finish the lemonade the first day, I recommend discarding the mint leaves because they will lose their minty freshness and turn brown.

Combine watermelon, strawberries, peaches, nectarines, pear, and grapes in a large mixing bowl.
Whisk lemon juice, mint, lemon zest, and honey together in a small bowl; drizzle over the fruit mixture and toss to coat.
Refrigerate 1 hour before serving.
Mint Chocolate Chip Cookies (by Dessert for Two)
Ingredients
1/2 cup (1 stick) unsalted butter

1/2 cup firmly packed fresh mint, roughly chopped

1/2 cup firmly packed dark brown sugar

1/2 cup granulated sugar

1 egg, at room temperature

1 teaspoon vanilla extract

1 1/2 cups all-purpose flour

1 teaspoon baking soda

1/2 teaspoon fine sea salt

heaping 1/2 cup semi-sweet chocolate chips
Instructions
Place the butter and mint in a small saucepan over medium heat. Melt the butter, swirling occasionally. After about 2-3 minutes, when you can smell the mint, turn the heat off and let the butter continue to steep for 30 minutes.

Strain the butter, pressing the leaves to extract all of the butter from the leaves.

Meanwhile, line two baking sheets with parchment paper, and set aside.

In the bowl of a stand mixer, add the butter and sugars. Beat until light and creamy, 3-5 minutes.

Next, add the egg and vanilla and beat for an additional minute.

In a separate bowl, whisk together the flour, baking soda and salt.

Slowly add the dry ingredients to the mixer while running, stopping to scrape the bowl as necessary.

Finally, add the chocolate chips and mix just until combined.

Remove the cookie dough from the bowl, wrap in plastic wrap, and press flat into a disk. Chill for 1 hour.

Preheat the oven to 350.

Divide the dough into 12 equal portions, rolling into 12 balls. Space 6 balls on each cookie sheet (the cookies will spread considerably).

Bake for 11-12 minutes, rotating the pans half-way through.

Let cool on the baking sheet for 2 minutes, and then move to a cooling rack to cool completely.