Um, hello beautiful, modern, minimalistic candle sticks that make ANY room better all year long. Hand-turned on our wood lathe, no two will be identical. They are made from maple hardwood. 
Donovan has been working on these gorgeous candle sticks for you all and let me tell you, they are GOOD! You are going to love them.
We highly recommend grabbing a pair, but one alone is beautiful, too!
THE STORY:
(Precursor, this is a safe place for all people of any faith or lack there of, but I want to share our experience.)
Donovan learned how to turn when he was in high school. It was something that brought him a lot of joy, and was a lot of where he found his love for woodworking. When Covid-19 hit, he was laid off and we were in a tough place. We wrestled with of questions like where to go from here? We asked, "God, what are you doing? You have our attention. What are you trying to say?"
We felt very boldly like God was wanting us to embrace the slow. To learn to find the beauty in it. To release our expectations of what life needed to look like and trust that there will still be good even in this trial. And that even in a pandemic, He still cares about his kids dreams and desires. So we let go, and sat back as he did what only He can do.
Donovan took his stimulus check, and decided to invest it into getting a lathe with the hope of tapping into that old joy. And not only did Donovan get a lathe, something he only dreamed he would get, but it turned into a big part of his new job. And since then, he's even leveled up his wood lathe to a bigger and better one. How cool? Beautiful things can still come out of awful circumstances when we slow down enough to see them. And this year is a big revelation of that for us.
Here are some maple tapered candle holders that represent that journey to us. They are beautifully simple. Handmade slowly with the basic skills and tools we had deep inside us, waiting to be unleashed in the weird opportunity that 2020 gave us.
DETAILS:
Created to fit standard taper candles (not included).
The short is approximately 3 inches tall without a candle
The tall is approximately 5.5 inches without a candle.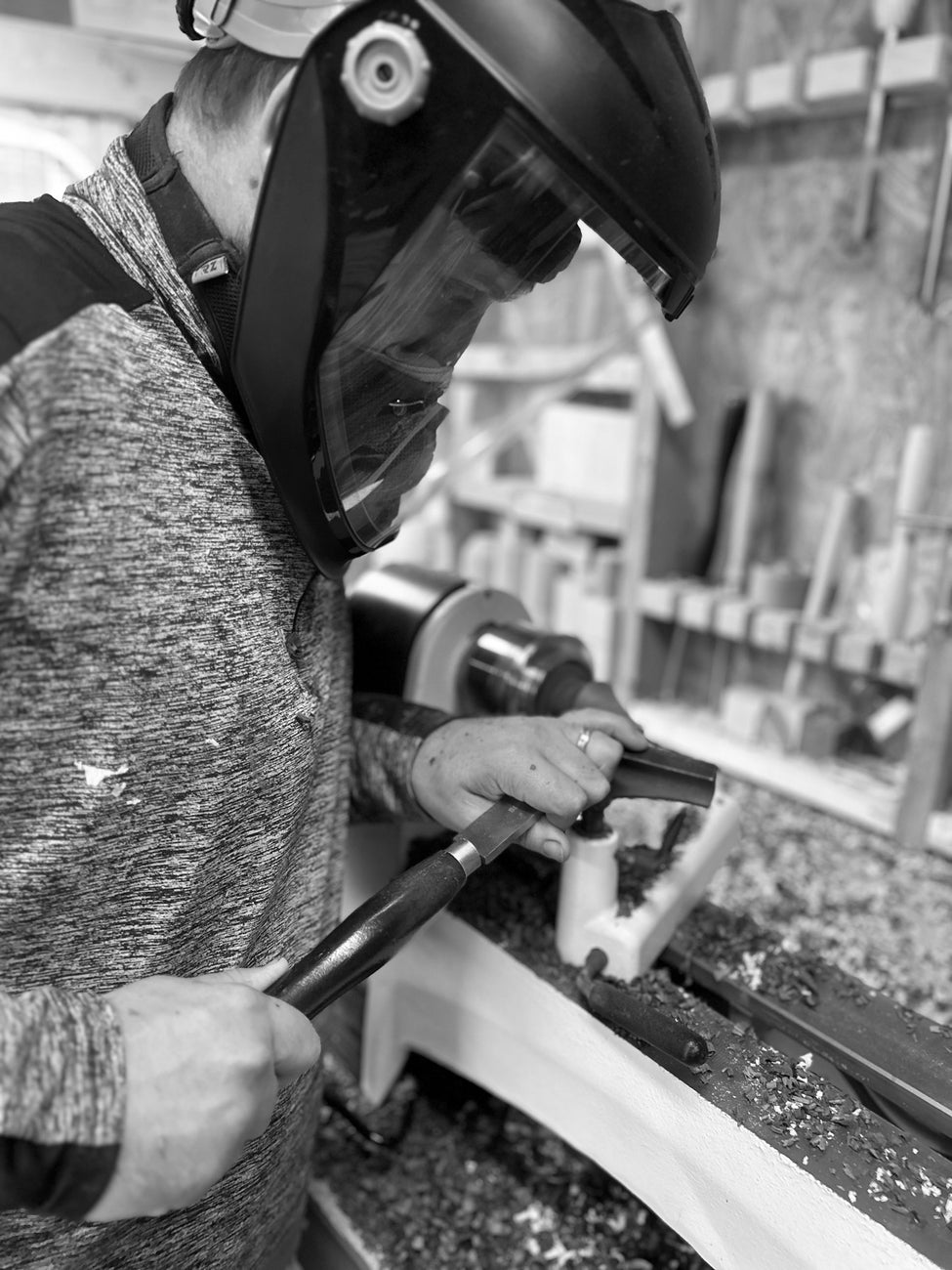 100% handmade and one-of-a-kind.
Our hope is that these handmade products crafted with an age old art-form take you back to simple times and draw you in to the moments that mean the most.
Everything we make is done with a heart for sustainability and enriching our local community. We use recyclable, natural, and locally sourced materials.
What They're Saying
"We love maintaining our family tradition of a new tree each year! They are timeless and something I will love to pass on someday."

Emma C.
Add customer reviews and testimonials to showcase your store's happy customers. Add customer reviews and testimonials to showcase your store's happy customers.

Stephanie Jackson
Add customer reviews and testimonials to showcase your store's happy customers. Add customer reviews and testimonials to showcase your store's happy customers.

Josephine Paterson