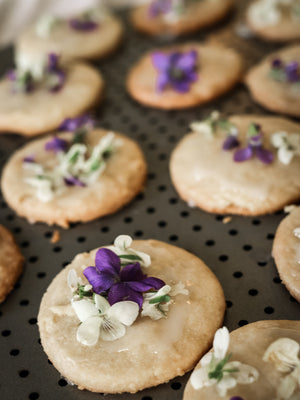 Foraged Violet Shortbread Cookies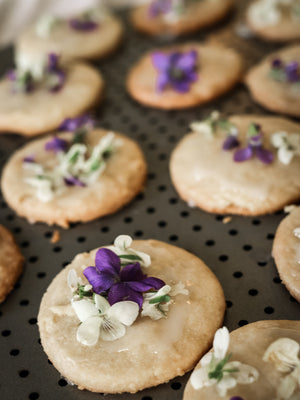 Itching to find more ways to explore outdoors while simultaneously avoiding the grocery store due to COVID-19? Foraging our yard has been a fun way to utilize the natural food around us while getting some fresh air. Wild violets are such a pretty bloom and usually one of the first signs of spring landing in our lawn. Last week, I decided to take an afternoon with my nieces Kenzie & Addilyn to forage a whole jarful and we made the most delicious shortbread cookies with them. (If violets have already left your yard, you can still make these without them or utilizing another edible flower in your yard. Some common edible flowers include lavender, dandelions, chamomile, pansies, etc.)
The girls had so much fun finding the violets and called it a scavenger hunt for food. They learned that there are quite a few purple flowers growing in the yard as well as white violets, too! We were able to utilize our new biscuit cutter and hardwood rolling pin that we added to our shop this spring. Kenzie and Addilyn were so excited to use them and we all oohed and ahhed over the softness of the wood and pretty grain. Using handmade tools made baking just a little more fun. 
After the cookies cooled, they loved the idea of decorating them with flowers and using the glaze as a glue. Never having done that before, they thought it was so neat to get to play with flowers and bake at the same time. We all cheered each other on at how beautiful our cookies were turning out. Each one looked uniquely different but equally beautiful. 
Because of how fancy the cookies looked, my nieces suggested that we have a tea party. So we foraged for some mint from the garden and boiled a pot of water. I pulled out my grandma's tea pots that she gifted me and steeped the leaves while the cookies cooled. In our best attempt of fancy, we raised our pinkies and sipped tea in celebration of a fun start to summer together.
SHORTBREAD COOKIES with flowers
3 sticks unsalted butter at room temperature

1 ¼ c. powdered sugar

3 cups all-purpose flour

2 tsp vanilla extract

¼ tsp salt (omit if using salted butter)
Wild violets or any edible flowers (as many as you'd like!)

1 cup Powdered (confectioners) sugar

½ tsp vanilla extract

2 tsp water
Beat butter in a mixer until smooth. Add in sugar, vanilla and salt and continue to beat. With the mixer on low, add in the flour and mix until incorporated.

Wrap the dough in plastic wrap and refrigerate for about 30 minutes (or longer if you need!)

Roll the dough out and use a biscuit cutter to make circles.

Bake in a preheated oven, 350 degrees for 15 to 20 minutes.

Let them cool at room temperature.
Glazing & Decorating the Cookies
Forage for wild violets or edible flowers to decorate with. Soak the flowers in a bowl of water for 10 minutes to clean, then let air dry on a towel. 
For best results, press flowers in wax paper under a book for at least an hour (the longer the better). If you are short on time, you can still make beautiful cookies without pressing the flowers. 
Mix 1 cup confectioners sugar with 2 tablespoons of water and a ½ tsp of vanilla until it forms a thin smooth glaze. Spoon the glaze onto each cookie then decorate with the flowers. The glaze will dry quickly, so it's best to glaze immediately before placing the flowers. Let dry, then enjoy!