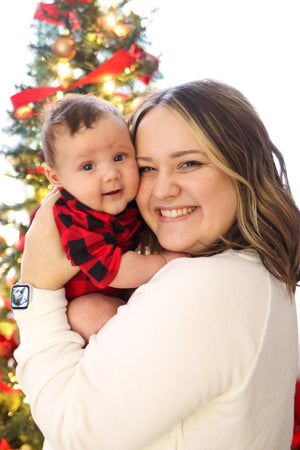 10 Ideas for New Holiday Traditions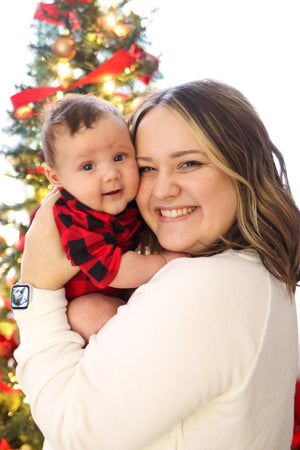 Making time for holiday traditions can be a challenge. As a household based on self-employed income, it's sometimes (if we are honest, very often) a struggle of when to "shut off" work and spend time together as a family instead. As much as we want to make traditions together, when our time = opportunity to make more money, it's very tempting to work those extra hours. We have said in years past that when we have a kid, things will slow down dramatically. Cue 2021, we have a kid. And it's still hard to slow down. 
When we were discussing our schedule for Thanksgiving this year, we talked about the pros/cons of working around the holiday to get product created for our Christmas retailers in time for Small Business Saturday. But no matter where we tried to squeeze it in, it came with sacrifice. A sacrifice that didn't sit well with us. The ugly question: Were we prioritizing money over memories? 
We came to the agreement that if we don't find a way to start making time for family traditions, we won't have any. And we aren't okay with that. So this year, we are making a conscious effort to be more present than we ever have been. To limit our work to nap times. To find traditions - even if they are hard to do with a newborn - because even if they are broken up by feedings and nap times, the time together is still where memories are made. 
Are there things that are holding you back from taking time to create traditions with your family? If so, I encourage you to answer the question -- in 10/15 years, what will matter more? What will you remember?
10 Ideas for New Holiday Traditions 
1. Decorate as a Family
Make it a party! Break out the cocktails, hot cocoa, or your favorite holiday snack. Maybe even put some cookies in the oven to fill the house with that "home for the holidays" smell. Put on your favorite holiday tunes and laugh together. It's less about what gets done and more about the time together. (If you're a little Type A about design like me, you can always finish the decorating part later. ;) )
2. Make a Family Holiday Bucket List
Get together and ask what things you'd like to do as a family.
Some local ideas: Go to PPG Place and ice skate around the Christmas tree in Pittsburgh, go to Hartwood Acres to see the lights, or no matter where you live, bake a new holiday recipe to share with neighbors/friends, make and send homemade Christmas cards, volunteer as a family at a food drive or homeless shelter, play in the snow, make salt dough ornaments, etc. 
3. Bake + Decorate Christmas Cookies
This is a holiday tradition in my family that we now do as an extended family with all my nieces + nephews. We always have the oldest family member (my Grandma) be the judge. When it was my late Pap, we always joked that we new the winner would be whatever cookie had the most icing. We called them "Pap cookies."
4. Christmas Movie Night
Who doesn't love watching Christmas movies as a family? When I think of warm and cozy memories of my childhood around the holidays, some of them are just being curled up on the couch watching a joy-filled movie together, laughing at "you're gonna shoot your eye out, kid" for the thousandth time, and sharing a big buttery bowl of popcorn. If you want, you could even make it a weekly thing you do together for the month of December.
A few more ideas that are even good for families of infants/toddlers...
Sometimes it's hard to imagine these bigger activities being worth the effort between naps and feedings. But you still want to do some special things together to really cherish these first few holidays together. So what can you really do?
5. Read the Christmas Story from the Bible
Make bedtime stories be surrounded around the Christmas story for the days leading up to Christmas Eve. It is never a waste of time to stop and remind ourselves of the true meaning of Christmas and plant it in our children's minds in their earliest years.
6. Make a Yearly Ornament
Take the time to create a memento for this year of your child's life. Pinterest is full of great ornament ideas. To name a few, you could make salt dough handprints and paint them (these will be precious forever), cut a ring off the bottom of your tree and date it, or print + hang a favorite photo of your child from the year (be sure to date it!)
7. Christmas Morning Family Photo
By far, the easiest on this list to accomplish. If you do anything from this post, at least do this. You will cherish these photos forever. 
8. Experience Gift
Substitute at least one gift this year for an experience together instead. This isn't necessarily a tradition, unless you do the same thing every year - but it's sure to bring on some really special memories. More often than not, a lot more than another toy in the toy box.