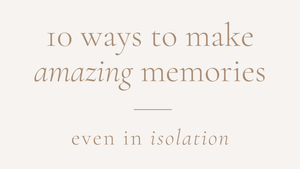 10 Ways to Make Amazing Memories in Isolation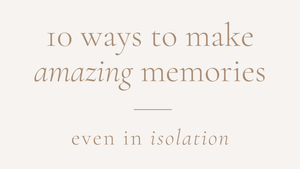 Being stuck indoors after a long winter can make what was already cabin-fever feel more like being trapped. Whether you are surviving isolation with little ones running around or finding things to do/talk about between you & your spouse, it can become challenging to think outside the box (quite literally). 
Here are 10 ideas of how you can use this time to make memories even while in isolation.
1. Have a tea party.
Yes, a tea party. Dust off the porcelain teapot your grandma gifted you all those years ago, boil water in a tea kettle, and wait for it to whistle. There's something about doing the things you never had time to do that can feel very therapeutic. Soak in those little weird moments of joy. Find your fanciest mugs or tea cups and set a fun little space to sip and savor. If you're feeling daring, make some fancy baked goods to enjoy, too. 
2. Go camping in your backyard.
No, it's not summer time. But at least in the spring at your house you don't have the mosquitos, heat and a stinky outhouse to deal with. Pack a thermos, grab the sleeping bags & pillows, and pretend like you are in the woods for a night. This could also be a secret way to cut down on toilet paper usage. Find those leaves, kids! ;)
3. Make DIY bubbles and get some fresh air.
The bubbles really aren't the big point here -- just get yourself outside, plant your bare feet in the grass, and breathe. Look up at the sky and remind yourself how BIG the world is. Sometimes what we really need is to take a few seconds of our day to slow down the noise and remind ourself that God and the universe is so much bigger than us. When you feel better about that, grab those bubbles and let out that childlike joy. Who can blow the biggest bubble?
4. Forage for flowers or pretty greenery in your yard & make a centerpiece.
This is the time of the year where things start springing up out of the ground every day. Grab some clippers or scissors, a little basket for your findings, and maybe a vase or two. Go out into the yard and see what's springing up. Bring some life indoors while having fun with a little activity. No blooms yet? Find a budding tree branch, pines, or leafy bushes and get creative. There are no wrong answers here. Just have fun and get connected with nature. To make it a little more exciting, have a challenge of who can make the prettiest bouquet!
5. Grill out & have a picnic.
It's time to break out the grill! Make some BBQ chicken, hot dogs, burgers or your favorite summertime meal. There's nothing to spark joy like summertime foods and who says it has to be summer to enjoy them? Put everything in a basket and pack a cooler full of drinks. Even if it's too rainy or cold, put a blanket in the living room and eat on the floor. Sometimes a little change can make for some fun! Have ice cream sundaes with random fixins from your pantry as a dessert. :) 
6. Build an indoor tent and have a movie marathon slumber party.
Remember making forts with sheets, chairs and every blanket in the house? Don't worry about the mess and just have some fun. These are the memories that will last forever and in a time when things are scary and big -- little moments like these are what really matter for kids (and heck, adults too.) Make a movie theme like scary movies, Disney movies, cheesy Rom-Coms, watching the whole Toy Story collection on Disney+, etc. and pull an all nighter if you're brave enough! We don't have anywhere to go tomorrow!
7. Have a bonfire and make s'mores.
Again, nostalgia cures all things. Simpler times are calming to the soul. And c'mon...who doesn't want a s'more? Pull out the bag chairs from the garage and find your marshmallow sticks. Can't find marshmallow sticks? No problem. Whoever finds the biggest stick in the yard gets the first s'more!
8. Wake up early for a coffee date while watching the sunrise.
It might not be as nice as watching the sunrise over the beach, but a sunrise is still a sunrise. If you can't get a good view from your house, pour your coffee into travel mugs and drive to the nearest overlook. Again, another reminder of how BIG and GOOD God is. 
9. Make a time capsule for 2030.
Put some of your favorite latest photos, maybe some illustrations of what you did in isolation, some news articles of the pandemic, and letters to your future selves with hope of what the next 10 years will bring. Set your mind on where you are headed and set goals of what you'd like to accomplish. This pandemic will not win!
10. Start a marriage challenge or family devotional.
No better opportunity than when you don't have to face the conflicts of schedules lining up or rushing to work in the morning. Now is the perfect time to start that family devotional or marriage challenge book because you are spending 24/7 under one roof. I bet it even helps you enjoy your time trapped in one house more than you thought was possible.
No matter how you spend your time through this season, remember to slow down, make memories, and savor the life you've been given. I hope these ideas help spark joy in your day and create moments that you'll cherish forever. Please comment below and let us know how this helped you, or tag us (@makeit_slow) in your memory-making selfies!